I have been researching various factors to have Total Knee Replacement (TKR – also called Total Knee Arthroplasty TKA)  Surgery for my mother.  My mother has been suffering from Osteoarthritis for almost 10 years and we weren't confident of going for a TKR surgery so far. We looked into other matters such as therapy, medicine, and a shop for orthotic shoes as those can reduce foot and lower leg pain. However, it has become unbearable for my mother and upon diagnosis (x-ray), the doctor confirms that both knees are in the final stage (#4) of Osteoarthritis and recommended the bilateral TKR (TKR for both knees).
TKR surgery has become a common and reliable solution these days. Also, it has an increased success rate and faster recovery times than other treatments. These factors are helping to improve the confidence in patients to undergo this surgery.  The major two contributors for a successful TKR surgery are below:
Quality of the Surgeon – choosing the right surgeon is the most and very critical decision you have to make for a successful surgery and recovery. 
Implant used – for most of the times this decision is taken by the surgeon depending on his evaluation of your knee condition and his experience with particular model or brand of the implant.
Things to consider while choosing the quality surgeon for Knee Replacement:
Finding a best Knee Replacement Surgeon requires you to gather as much as possible list of all Knee Replacement Surgeons in your region/city. 
Surgeons who are highly experienced (no.of years) and also has International work experience
Surgeons who has high success rate – by references of other patients, searching internet for doctors profile and hospital profile
Surgeons who does more number of Knee Replacements in an year – choose doctors who at least have a track record of performing 1000 Knee Replacement a year
Surgeons with higher education credentials and National/International  associations/fellowships – most of the surgeons would have 
M.S (Master of Surgery) or M.Ch (Master of Surgery in Great Britain)
followed by any Orthopedics specialization like
DNB – Ortho (certification by National Board of Examinations Govt. of India)  equivalent to MD/MS/DM/M.Ch or
FRCS – Ortho (certification by one of the four Royal Colleges of Surgeons of the United Kingdom and Ireland)
Further relevant specialization like complex joint replacements, Sports Medicine  & Arthroscopy would be a value addition
Professional Orthopedic Memberships like
Association of Orthopedic Surgeons
Indian Orthopedic Association (IOA)
Indian Society of Hip & Knee Surgeons
Indian Arthroplasty Association (IAA)
Arthritis Foundation of India Trust (AFI)
Indo German Orthopedic Foundation (IGOF)
British Orthopedic Association
Arthroplasty Surgeons in Asia (ASIA)
Awards and Honors
Academic Contributions like books or article publications
Surgeons with Continued Research – by being part of any Center of Excellence in Orthopedics
Facility/Hospital he is associated with
Use of latest technology like minimally invasive TKR,
Friendliness with Patients to relief their stress and build more confidence
You need to have at least one time in-person interaction with the surgeon to build your comfort and confidence
Here are my efforts to find few best doctors for Knee Replacement in Hyderabad: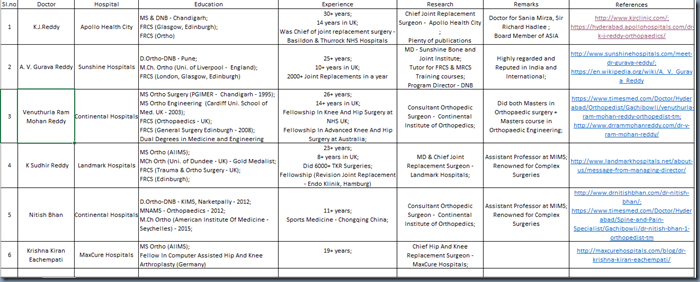 Orthopedic surgeons Hyderabad Excel File:
I took my Mother for in-person consultation with
K Sudhir Reddy (Landmark Hospitals) – The doctor was too busy and paid hardly any attention to the patient.  Advised us to contact his assistant who will describe about the surgery and pricing.
Nitish Bhan (Continental Hospitals) – The doctor was not available on the schedule despite taking the appointment.  However, he paid utmost attention and explained to my mother about why she needs the surgery.
Things to consider while choosing the Implant for Knee Replacement:
As said above, its recommended to leave the choice of implant to the surgeon itself. – Because it is found that in a good surgeon's hands even an average implant will work very well. In a bad surgeon's hands, even if you use the most expensive implant it may not work very well.
However, you should check with your surgeon on below aspects of the implants that he is going to use:
is the implant the newest design/model or is the implant having the longest track record?
do you use different implants depending on each patient, or become most comfortable with one implant for every patient?
how is the chosen implant appropriate for the patient's condition
You may just need to learn about what these implants are made of? All of the implants should be made of bio-compatible metals (so that it will not be rejected, corrode nor react with the body).  Below are some of the commonly used implant materials:
Cobalt-Chromium Alloys –
most commonly used for the femoral implant since it is very sturdy and the Femoral implant has a lot of traction against the plastic spacer during movement
metal ions particles can sometimes cause reactions in the human body, especially in case of those patients who have allergy to special metals like nickel.
Titanium and Titanium cobalt Alloys – 
is used as frequently as cobalt-chromium
will not corrode, nor change inside the body and more elastic and favorable to the natural bone surrounding the implant
since this metal is softer, it tends to make up the Tibial part of the replacement where the plastic insert locks in.
used in cementless designs which rely on bone growth into the surface of the implant for fixation  implants
the most used titanium alloy in knee implants is Ti6Al4V
Tantalum  –  
it contains pores, the size of which makes this material very good for bone in-growth.
a new porous substance has been made of tantalum named Trabecular Metal
Trabecular Metal has an elastic nature which aids bone remodeling.
Zirconium alloy  –  
Oxinium oxidized zirconium is a new metal alloy containing 97.5% Zirconium and 2.5% Niobium that is oxidized to convert the surface of the material into zirconia ceramic
it is twice as hard as cobalt chromium alloys, it provides half the friction thus performs with higher quality and lasts for a longer time.
sell at a premium of 20-25% over the Cobalt-Chromium implants
Polyethylene –  
is a type of strong plastic found in the the tibial patellar (kneecap) component and the plastic spacer
the use of Ultra Highly Cross Linked PolyEthylene (UHXLPE) or Ultra High Molecular Weight PolyEthylene (UHMWPE) reduces even the minimal wear enabling the knee implants to last for a much longer time.
What an Ideal implant should have?
Allow for normal activities and motion – high flex upto 155 degrees
Last the expected 15-20 years or more. 
Have a good track record of use in joint replacement recipients (this should be 5-10 years minimum). 
Meets your condition, needs, and any additional requirements like sizes
Be a familiar brand and style to the chosen surgeon.
Pricing of various implants I gathered from Landmark Hospitals.  This is not an official price tags but only to give you an idea of what the pricing would be of various brands and models of knee Implants.  Further, a very good news is that Govt. has put maximum limits for the implants price in India; The new prices would include Rs. 55,000 for any basic implant and its almost 55% lesser than previous prices.
Sl.No

Brand

Model

Life

Price Per Single Knee

Remarks

1

Johnson & Johnson

 

20 Years

 ₹                          190,000

Basic Knee Implant

2

Stryker

 

25 Years

 ₹                          190,000

Basic Knee Implant

3

Smith & Nephew

Oxinium Verilast

30 Years

 ₹                          280,000

World 2nd Best Implant

4

Stryker

Scorpio NRG X3

30 Years

 ₹                          260,000

Natural Movement

5

Johnson & Johnson

Attune

30+ Years

 ₹                          320,000

Hi-tech and Advanced – includes a fixed bearing

6

Zimmer

Persona

35 Years

 ₹                          320,000

World Best implant has decades of clinical history

7

Smith & Nephew

Journey II

40 Years

 ₹                          360,000

More natural and advanced imaplnt than Persona

 

 

 

 

 

 

 
 
 
 
 
 
 

Indian Govt. has put maximum limits for the implants price in India; The new prices would include Rs. 55,000 for any basic implant

 

BioMet

Bought by Zimmer

 

Zimmer Biomet

 
 

DePuy

Bought by Johnson & Johnson

Johnson & Johnson

 
 
 
 
 
 
 
 

References:

https://www.peerwell.co/blog/2016/10/03/different-types-of-knee-replacement-implants/

 
 
 
 
 
 
 
 
 
 
 
 
 
 
 
 
 
 
 

Name

Types

Price

 
 
 

Standard TKR

Femur   :  25295

65111

 
 
 

Bearing :  10028

 
 
 

Tibia     :  25494

 
 
 

Pattela  :  4295

 
 
 

Total    =  65111

 
 
 

 

 

 

 
 
 

Hi Flex TKR

Femur   :  27153

66969

 
 
 

Bearing :  10028

 
 
 

Tibia     :  25494

 
 
 

Pattela  :  4295

 
 
 

Total    =  66699

 
 
 

 

 

 

 
 
 

Revision TKR

Femur   :  65909

112361

 
 
 

Bearing :  16664

 
 
 

Tibia     :  25494

 
 
 

Pattela  :  4295

 
 
 

Total    =  112361

 
 
 
 
 
 
 
 
 

Source:  http://www.landmarkhospitals.net/services/orthopedics/